In addition to having a job that keeps her on her feet all day long, Jenna is always in the gym working out her super athletic legs. But her partner/soon to be victim likes to criticize her workout routine and doesn't think her leg days are as badass as she claims they are. When Jenna finally has enough, she decides to ask him what he thinks while they are wrapped around his head and body, squeezing the life out of him! At first, he continues to live in denial, but by the end of the grueling 10+ minutes of leggy torture, he changes his tune.

Holds include: Classic headscissors, side bodyscissors, figure-4 headscissors, bodyscissors/rear naked choke combo, and inverted reverse headscissors.

Running Time: 11m02s | Format: 1280x720 MP4
PURCHASE CONTAINS THE VIDEO (in all formats listed) AND 144 STILLS FROM VIDEO.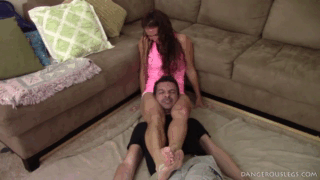 Jenna: Are They Stronger?
Product Code: 2018.0309
Availability: In Stock
Related Products
Tags: jenna