Pisces expects her dates to treat her like a lady, and when they don't... well, let's just say she puts them in their place... between her thick, strong thighs! This guy makes the wrong move when he fails to hold the door open for her, so Pisces decides to train him with some excruciating scissorholds including classic, figure-4, reverse, and a couple of combo holds... a side bodyscissors/choke, and an inverted headscissors/bearhug. Her date/victim is apologetic as he squirms in pain, but it does no good as she continues to squeeze some manners into him!

Running Time: 10m17s | Format: 1280x720 MP4
PURCHASE CONTAINS THE VIDEO (in all formats listed) AND 158 STILLS FROM VIDEO.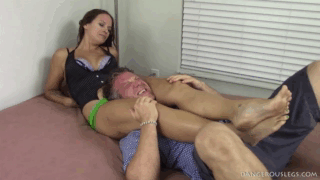 Pisces: Date Training
Product Code: 2018.0107
Availability: In Stock
Related Products
Tags: pisces