Marilyn loves to push her victims to their limits, and in this video she absolutely crushes her victim for over 15 minutes while completely ignoring his tapouts! She also adds some hand-over-mouth and nose pinching at times, just to bring the panic level up a notch. What's not to love about a beautiful blonde with a killer squeeze?!

Running Time: 15m28s | Format: 1280x720 MP4
PURCHASE CONTAINS THE VIDEO (in all formats listed) AND 173 STILLS FROM VIDEO.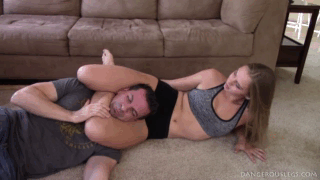 Marilyn: Beg All You Want
Product Code: 2017.1231
Availability: In Stock
Related Products
Tags: marilyn