New recruit, Michelle, had sent us some photos of her amazing legs and expressing an interest in using them to "choke someone out" after seeing our site. One look at them and we had to setup a shoot! And so we did, and wow... the muscle tone just explodes as she clamps down on her victim's neck! Her figure-4 is insanely tight. Her straight scissors, excruciating... to the point it's impossible to talk! And when she wraps them around his body to crush his lungs flat, she makes sure he remains silent with her hand tightly sealed over his mouth! The video ends with her perfect thighs and glutes squeezing him to sleep in a reverse headscissor.

Running Time: 10m28s | Format: 1280x720 MP4
PURCHASE CONTAINS THE VIDEO (in all formats listed) AND 141 STILLS FROM VIDEO.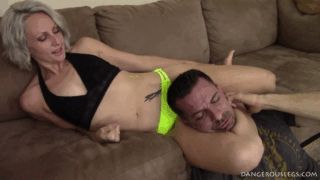 Michelle: Silenced by Scissors
Product Code: 2017.1105
Availability: In Stock
Tags: michelle