MJ totally flunks her term paper, and she is NOT happy about it at all. So she decides to make her way down to her professor's office and give him a bit of "incentive" to change her grade. That incentive comes in the form of her lithe yet powerful legs being wrapped around him and squeezing until he is ready to negotiate. Does she end up changing his mind? Check out the video and see for yourself! Holds include classic and figure-4 headscissors, side bodyscissors, and inverted headscissor off the couch, and a rear-naked-choke/bodyscissor combo.
Running Time: 11m06s | Format: 1280x720 MP4
PURCHASE CONTAINS THE VIDEO (in all formats listed) AND 154 STILLS FROM VIDEO.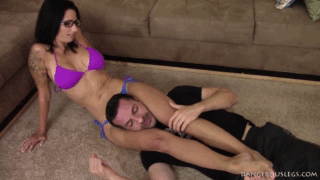 MJ: Term Paper Pressure
Product Code: 2017.1029
Availability: In Stock
Related Products
Tags: MJ