Sexy Latina, Kim, returns this week with her thick, powerful legs encased in snakeskin stretch pants, and we have to say her legs look pretty amazing in this video! Over 10 minutes of this cute, but brutal babe squeezing her "prey" without mercy in torturous head and bodyscissors. You can see her leg muscles flex and crush her victim while she thoroughly enjoys his pain and struggle to breathe!

Running Time: 10m35s | Format: 1280x720 MP4
PURCHASE CONTAINS THE VIDEO (in all formats listed) AND 167 STILLS FROM VIDEO.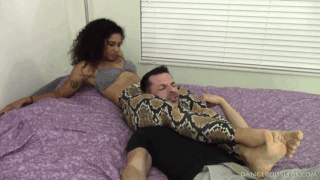 Kim: Kimaconda
Product Code: 2017.1022
Availability: In Stock
Related Products
Tags: kim