You may have seen Jenna make her debut in a brutal head-to-head tapout challenge with her sister, Marilyn. Well, this week she's squeezin' solo and puts her strong, rock-hard thighs on display while wearing a very revealing cheerleader outfit. Jenna's especially mad at the coach of the football team because he says she's flirting with his players too much. Jenna quickly shows him that he's flirting with danger as she crushes his neck and body with classic and figure-4 scissorholds. She finally knocks him out cold with a ridiculously tight reverse headscissor.

Running Time: 10m39s | Format: 1280x720 MP4
PURCHASE CONTAINS THE VIDEO (in all formats listed) AND 129 STILLS FROM VIDEO.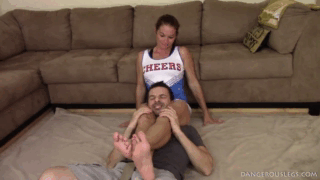 Jenna: Crushin' The Coach
Product Code: 2017.0906
Availability: In Stock
Related Products
Tags: jenna