It isn't often that we come across real-life sisters who are both interested in crushing men with their legs. Well, this week's update is one of those rare occasions where newcomers Jenna and Marilyn thought it would be fun to see who has the more dangerous pair of pins! Unfortunately for their victim, they both have very strong legs and they squeeze him mercilessly for over 12 minutes, taking turns using three different headscissor variations to see who can squeeze out the most taps! When they were done with him, he had busted blood vessels all over his face and neck (ouch)! Who wins? Check out the video to find out! Holds include classic, figure-4, and reverse headscissors.

Running Time: 12m13s | Format: 1280x720 MP4
PURCHASE CONTAINS THE VIDEO (in all formats listed) AND 138 STILLS FROM VIDEO.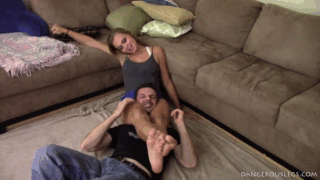 Jenna & Marilyn: Sisters Scissor Challenge
Product Code: 2017.0812
Availability: In Stock
Related Products