Cute girl-next-door, MJ, decides she wants to play a little game with her friend... a game that involves using scissors and hand smothering to see how long he can hold his breath! She starts out with a classic headscissor and then she starts counting... pushing to see how long he can withstand the pressure before he has to tapout. She also uses a neck-wrenching figure-4 headscissor followed by a gut-crushing bodyscissor that really takes the wind out of his sails.

Running Time: 11m04s | Format: 1280x720 MP4
PURCHASE CONTAINS THE VIDEO (in all formats listed) AND 142 STILLS FROM VIDEO.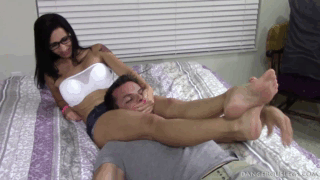 MJ: The (No) Breathing Game
Product Code: 2016.1003
Availability: In Stock
Related Products
Tags: MJ